Blog
Five Ways OPPTIMO Helps Managers at Workplace
1. Schedule Tasks for a Given Timeline
OPPTIMO can be a project managers best friends when it comes to scheduling. It provides the flexibility to schedule tasks for a given time period. Have a project coming in another two months and wants to schedule your team for it? No problem. Just schedule the tasks for given days and OPPTIMO would list it on relevant slots and will remind and organize your team members around it at the right time.
OPPTIMO also makes it easy for team leaders and managers to prioritize assigned work making it easier for teams navigate deadlines smoothly. What is more with OPPTIMO managers can now record the efficiency and success of each team members at the end of each task or a project.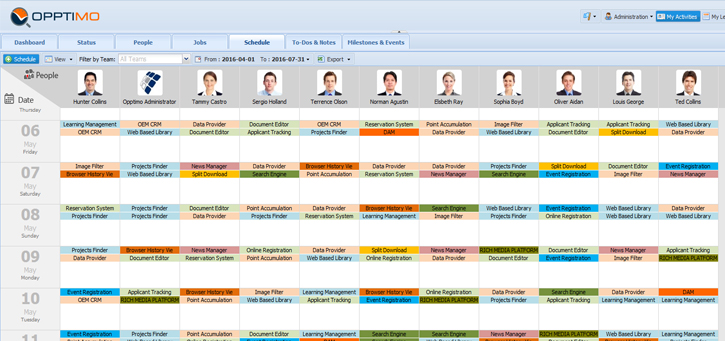 2. Evaluate and Performance Manage Team Members continuously
While continuous evaluations are the management mantra of the moment, the hassle and complication that surrounds the process can discourage managers of trying to adopt a method that can be constructive to the individual growth of team members. However OPPTIMO provides an easy solution to this common predicament by allowing managers generate individual performance reports for any team member for a given time period.
With OPPTIMO team leads and managers can easily identify the strengths and weakness of each team member and customize the work experience to suit the ability of each individual; performance managing their own team as they advance through the task and creating a better work place experience for one and all.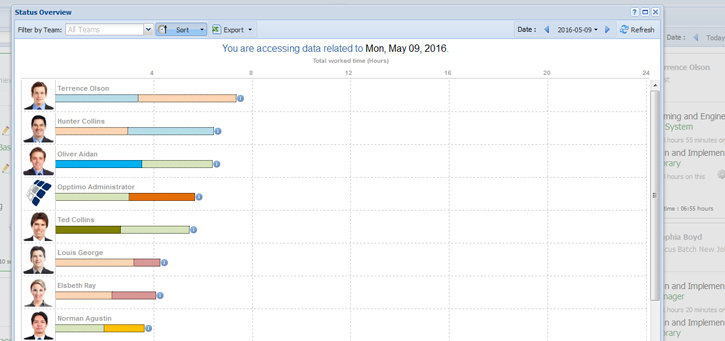 3. Monitor the Work Contribution of Telecommuters
The contribution of telecommuters is one of the least appreciated contributions at workplace. However according to a study from the University of Texas at Austin telecommuters worked nearly five to seven hours more than an average workers, yet their extra contribution went largely unnoticed due to their absence from workplace.
However OPPTIMO make sure that the telecommuters will never be gone from the memory of the manager just because they are gone from their sight. OPPTIMO lets its members log in from any place on earth through a simple web browser and provide their work performance and contribution real time to other members of their team, giving a real time weight and space to the work of telecommuters.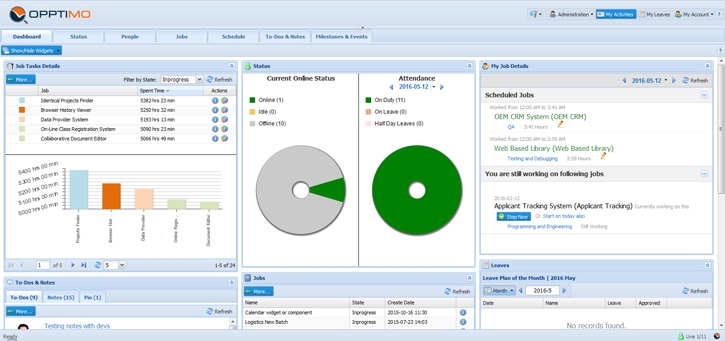 4. Manage Off Days and Breaks on the same platform
Wants to know how many team members are available for work next Monday? All a manager has to do is to check the leave request chart of their team members. OPPTIMO allows team members request leave and breaks with a simple click and managers can process these leave requests on OPPTIMO, making the process less simpler and flexible.
OPPTIMO also include a comprehensive holiday calendar based on the country you are from and also lets you add extra holidays and customize the holiday settings of schedule calendar, which makes future scheduling less complicated.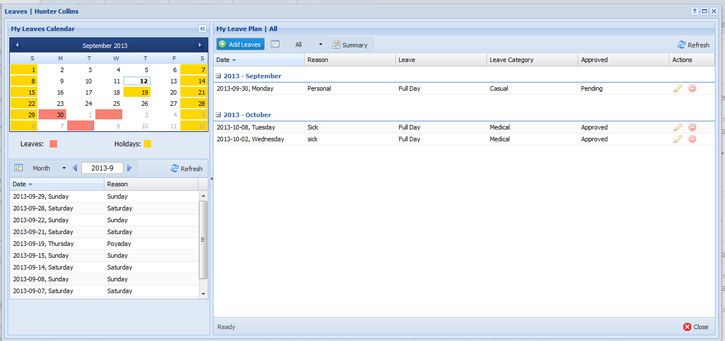 5. Manage your Team on the Go
Taking a day off from work but wants to know how your team is progressing through an assigned task? Just access OPPTIMO through your mobile from any place on the earth and address alerts and issues as they rise. Re-prioritize and assign tasks as you go to prevent delays and deadlocks all through your OPPTIMO mobile app.