Blog
Why Startups Need Help in Task and Project Management?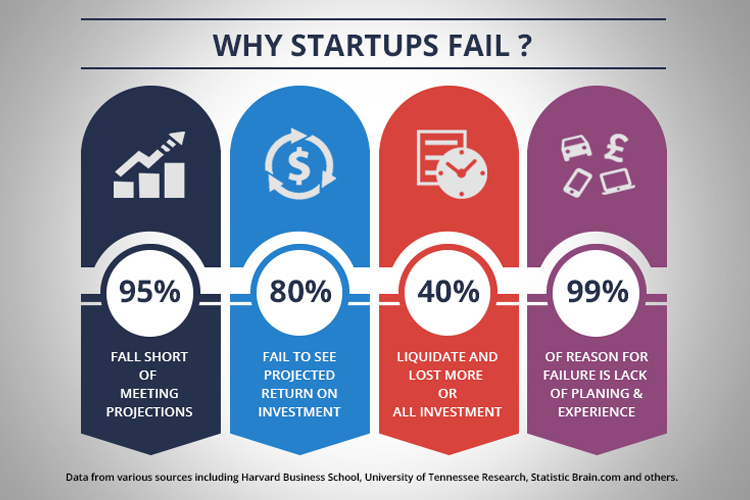 While startups are the most romanticized and hyped up success stories of our times equivalent to a modern rags to riches Cinderella stories, they have also helped to fuel a booming economy across the world.
Yet the recent statistics on startups are painting a doomsday picture as 9 out of 10 startups are predicted to fail. According to a series of research done as early as 2010 the venture backed startups fail at far high number than it is normal for their related industry.
While startup life looks easy from outside as just a matter of an entrepreneur backed with venture capital millions and new hot technology becoming a billionaire in his twenties, many do not see the line of pitfalls and tragedies waiting to happen once a startup is launched.
A study of nearly 2000 startups that received venture funding has revealed that nearly 30%-40% of startups were highly potential for bankruptcy including liquidating all assets and investors losing all their money.
Failure of startups can be attributed to a host of reasons including poor management and lack of a business process, lack of collaboration and bad communication between employees, employers and the investors, which highlights the importance of developing an organizational storyline for every startup.
As a startup organization has a comparatively fluid structure, having a backup arrangement to support rapid expansions and flexible changes helps it stay afloat even during the times of crisis.
Other than providing quick support for rapid changes a centralized solution also helps to make operations easy with improved workflow and collaboration.
A centralized and controlled workflow is essential for almost all workplaces but it can especially benefit startups, which has a variety of employees in its workplace. A startup can consist variety of employees from permanent and freelance staff to consultants, attending different tiers of work. Making sure that all the employees are working towards the same objective and are in same page of the story book can be crucial in assuring the survival of a startup.
In a fluid environment such as a one that exist at a startup it is easy to lose the sight of an important task with the change of work flow and structure and take the general focus away from the main goal.
A project management tool like OPPTIMO, which is a cloud based SAS solution that provides multiple task and project management facilities helps startups create a real-time visible workflow for all the people available.
Accessible through the internet across all devices OPPTIMO can be used to streamline almost all the tasks at a startup including task assigning , time management, task monitoring, communication and basic human resource management requirements.
As OPPTIMO can be accessed from any geographical location across the globe, it allows all the members involved in a startup have access to its work and performance records and data under varying access levels.
Moreover OPPTIMO makes it easy for employees to log in from anywhere in the world and have direct access to all the work schedules, to do lists and notes assuring that no work would be over looked how hectic the day was. It also allows real time monitoring of task completions making real time management of teams and projects through the software as easy as ABC.
The tool can also provide an easy solution to the lack of communication between the entrepreneurs and investors as it allows quick generation of variety of report relating to project and human resource management of an organization while entrepreneurs can give limited access to their investors through OPPTIMO to observe the way the product or concept development is taking place.
While there are number of software in the current market that provides the same flexibility to their customers OPPTIMO combines efficiency with affordability and ease of use. Starting with OPPTIMO is as easy as adding your name, business email and company, registering for a free trial and the service is available free for organizations with three or less members, making it an ideal collaboration tool for startups at their fledging stage.